Office Update 2/04/22
HVMPT says goodbye to not only a dedicated staff member, but a beloved friend to us all: Natalie Traboldt.
After graduating from SUNY New Paltz and obtaining her Teaching Certification in December 2021, Natalie has left Marlboro to pursue her career in El Paso, TX.
As an aide here at HVMPT, Natalie has always offered a friendly helping hand to all of our clients, and used her knack for organization to keep the office in tip-top shape.
We appreciate everything you have done for us & for HVMPT, and we can't wait to see you succeed in all your endeavors! Your bright light will influence many young lives. ♡
Office Update 3/16/21
Scroll to the bottom of our "Products" page to read about our new shipment of edible CBD goodies available for purchase now!
Office Update 2/11/21
Welcome to HVMPT's blog!
Here, we'll relay updated information about the goings on in the office.
We have also introduced a segment called PT Explained, which delves
into different aspects of physical therapy and the ways in which these practices can have a positive impact .
We have adapted our protocol to the
NYS Covid guidelines to ensure a safe and healing environment. Upon arrival, we ask that you knock on the door before entering, and a staff member will take your temperature. In addition, expect to be asked a short list of questions regarding your whereabouts and interactions over the past two weeks. We do this to confirm that patients have not had contact with the virus, and we thank you for understanding the given protocol!
As you may know, our schedule is quite busy.
If you are a potential patient looking to make an appointment, we suggest that you call us at (845) 236-1900 and schedule your evaluation in advance, especially if you have an upcoming surgery. Call a few weeks before the procedure so that we can pencil you in for an appointment in a timely manner. As always, if you have to cancel your appointment,
please call us a day in advance.
PT Explained:
Kinesthetic Awareness Training
Kinesthetic Awareness Training can help you to improve your golf stroke, take minutes off your marathon, and lift weights safely.
Most know that physical therapy deals largely with the rehabilitation of those who have lost or diminished bodily function.
But you may not be aware that physical therapy can be an educational process for those who want to fine-tune their movement patterns in order to promote more efficiency of movement and prevent further injury. Liz likes to use the phrase, "motion is lotion," to paint the picture for her patients that healing and health are associated with staying active. However, repetitive movement with a weak link in the chain can cause inflammation and breakdown. For example, lifting weights with poor form can result in life-altering injury rather than long-term gain.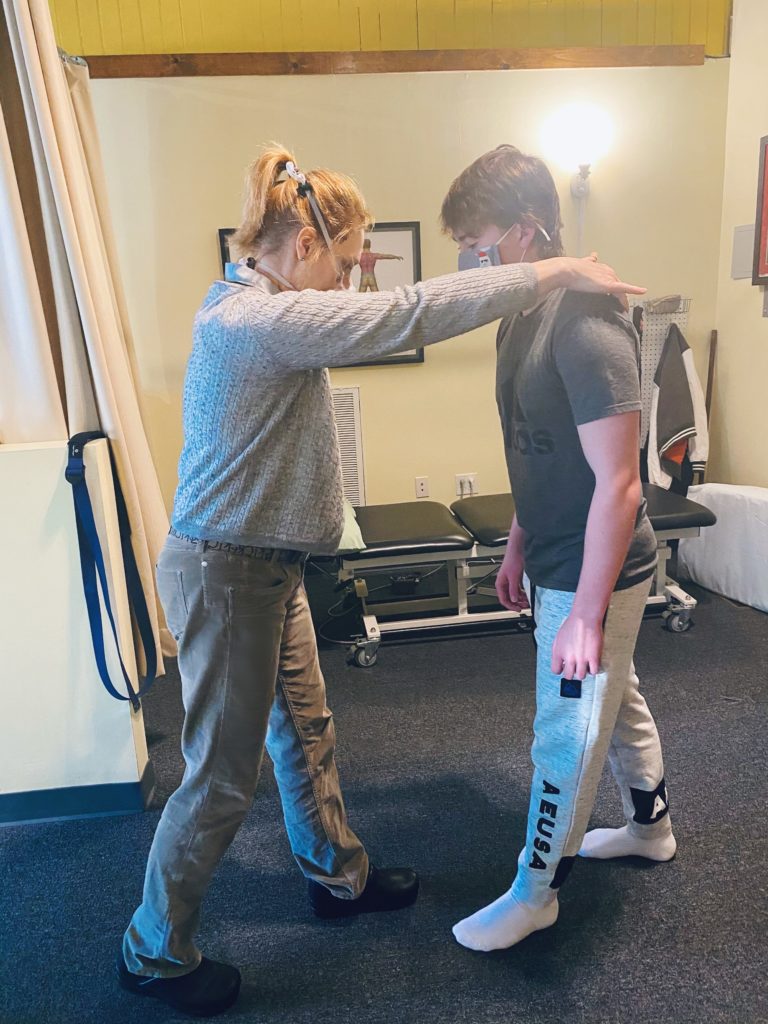 How Kinesthetic Awareness Training works:
Liz utilizes Kinesthetic Awareness Training (KAT) using functional tests, applying resistance and pressure through the body to assess a person's alignment and strength in varied positions. She then helps them adjust their posture and reassesses, seeing if there's a change in stability and function. This helps the patient gain insight into where they are in space. She uses an ABA strategy: assessing the patient in their natural posture, adjusting the posture manually, then returning the patient back to their original position to show them the difference. We have found clinically that KAT can aid patients ranging from those who simply want to learn best practices, to people who have suffered chronic pain. Mindfulness of the body as a core ideology is a great way to inherently improve many aspects of one's life!
To gain a deeper insight into what this type of training entails, check out this interview with a patient who was willing to share his experience working with Liz on Kinesthetic Awareness!
What knowledge have you taken away from the Body Awareness Training?
"I feel that I have gained new knowledge regarding the mechanics of my body and how I can alter certain things in my day-to-day life to improve the way my body functions."
Have you noticed any changes within yourself, mentally and/or physically since you have started this training? And, have you been incorporating your awareness training into your everyday life?
""I have incorporated these principles into my everyday life, mostly by being more mindful of my posture and how I'm positioned. I have noticed my taking into consideration of where I am and how I am positioned in space at any given time. I find myself trying to fix my
posture and make other small adjustments at various points in the day."
What do you hope to accomplish as this training continues?
"I hope to continue to improve my awareness of my body, reach a better place physically, and learn how to prevent further injury.
These changes will help me to more effectively work out and perform other daily activities with correct form, therefore keeping
my body healthier long-term."
Overall, has this been a positive experience? How so?
"This has absolutely been a positive experience
so far. I have already learned so much after just a few visits
and am well on the road to being in
fighting shape!"