We offer a variety of different products to aid your healing process at home. Contact us via email or by phone to order and inquire further about products: hvmpt22@gmail.com ❖ (845) 236-1900
We Offer CBD Clinic Lotions!
What is CBD? While Cannabidiol (CBD), is an essential component of medical marijuana, it is derived directly from the hemp plant, which is a cousin of the marijuana plant. While CBD is a component of marijuana (one of hundreds), by itself it does not cause a "high." According to a report from the World Health Organization, "In humans, CBD exhibits no effects indicative of any abuse or dependence potential…. To date, there is no evidence of public health related problems associated with the use of pure CBD."
Why CBD? CBD has proven pain relief properties. The CBD Clinic lotions provide a topical solution to issues such as chronic musculoskeletal and joint problems. This lotion effectively eases pain associated with daily living, sports injuries, arthritis, chronic medical conditions, and several other types of inflammation.
44 gram jars (tax rates apply):
Level 1 ($25). Mild, Odor-Free. 50mg CBD, 4% Lidocaine.
Level 2 ($35). Mild-Moderate. 100mg CBD, 3% Camphor, 3% Arnica.
Level 3 ($45). Moderate. 200mg CBD, 4% Menthol.
Level 4 ($55). Severe. 200mg CBD, 7% Menthol, 5% Camphor.
Level 5 ($90). Pro Sport. 400mg CBD, 16% Menthol, 11% Camphor.
CBD Pro-Stick ($80). Product Info TBA
Purchase Young Living Essential Oil Products through HVMPT!
What are Essential Oils? Harvested from farm-grown or wild crafted plants, herbs and trees, essential oils are concentrated plant extracts obtained by careful steam distillation or cold pressing. These pure essential oils are far more powerful than the botanicals from which they are extracted because they are so concentrated. You can utilize these oils in a multitude of ways! Air diffusion, massage and application to skin, add to water, and even in cooking and baking endeavors.
Contact us for more information on Young Living and to discuss the potential benefits of incorporating essential oils into your daily lifestyle.
NEW: Charlotte's Web CBD Products
If you enjoyed our CBD Clinic Lotions, get ready to incorporate CBD into your lifestyle on a whole different level! These edible products do not contain THC, and the oil is harvested through the environmentally friendly process of "Co2 Extraction."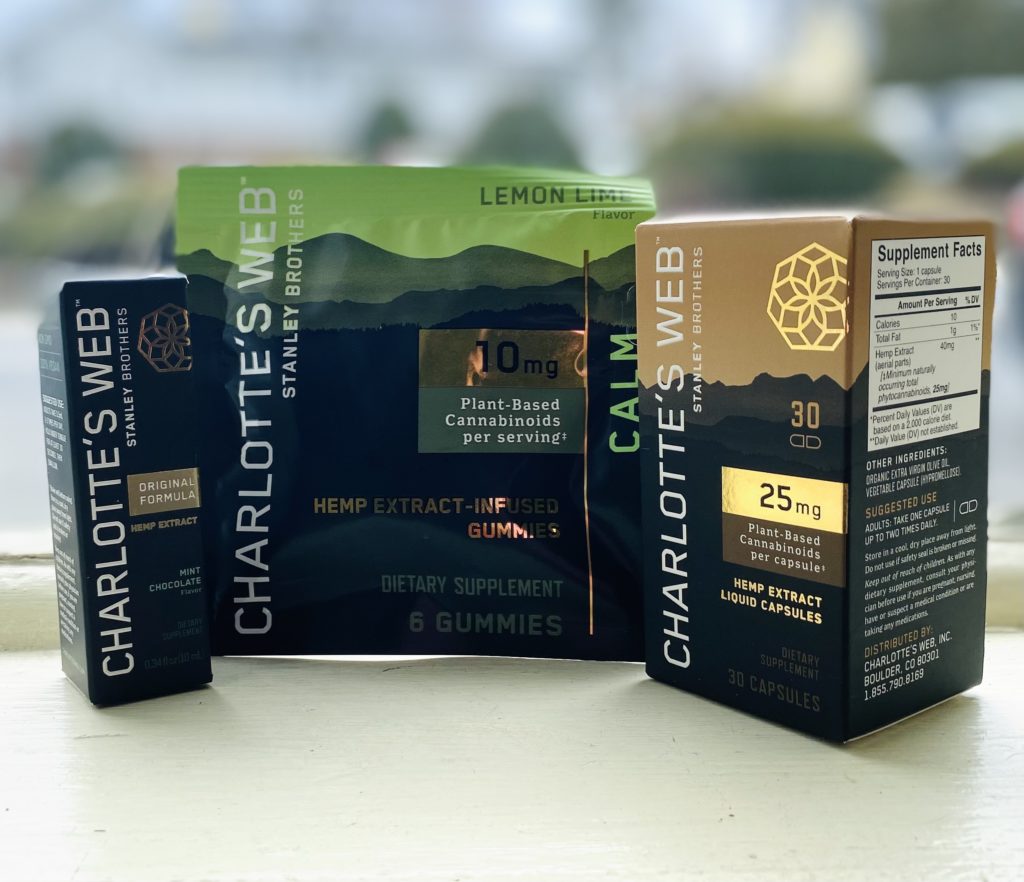 "Our material is grown without synthetic herbicides, pesticides or chemicals."

Charlotte's Web CBD Company
Tinctures (pictured left) : $49.99 + Tax / 10mL bottle

CBD Tinctures provide beneficial phytocompounds to help relieve stress, support a sense of calm for focus, aid recovery from exercise-induced inflammation, and maintain a healthy sleep cycle.
50mg of CBD / 1mL serving

Gummies (second picture) : $29.99 + Tax / 30 count bottle

CBD gummies are a fun way to add a botanical blend of goodness to your diet! The gummies we currently offer help to ease general anxiety, encourage relaxation without drowsiness, and manage every day stress.
10mg CBD / 1 serving

*We are sorry to inform that we are currently sold out of the "Calm" gummy pouches depicted in the first photo. The bottles are in stock, however!*
Capsules (pictured right) : $74.99 + Tax / 30 count bottle

These CBD-infused capsules are a great way to add phytocannabanoids, terpenes, flavonoids, and essential fatty acids to your wellness routine! They can be used to manage stress, regulate sleep cycles, and help with soreness from exercise.
25mg / 1 serving